Our next read picked by Kate Weiner of Loam Magazine will be Braiding Sweetgrass. For those of you who haven't yet read this, you are in for a treat! For those re-reading be ready for new insights as this book is so rich you could likely read it 5x and still have more to harvest.
Kate, writes "Robin Wall Kimmerer is an ecologist and writer whose transformative "Braiding Sweetgrass" weaves together indigenous wisdom, plant botany, and stories of spirit to create a blueprint for regenerative living that is rooted in reciprocity and reverence. It's at once a meditation on decolonization, a reflection on attention, and a celebration of the beauty of our ecosystems. "Braiding Sweetgrass" has been an integral source of support for Loam as we find our footing in this world by inspiring us to nurture reciprocal experiences to connect and co-create with our community. Kimmerer's writing makes a beautiful world feel far more possible and her passion for everyday ritual is truly cherished."
Additional Resources for the Avid Reader

"On what basis do we select where to invest our allegiance? If I were forced, I would choose Maple Nation. If citizenship is a matter of shared beliefs, then I believe in the democracy of species. If citizenship means an oath of loyalty to a leader, then I choose the leader of trees. If good citizens agree to uphold the laws of the nation, then I choose natural law, the law of reciprocity, of regeneration, of mutual flourishing."

- Robin Wall Kimmerer.
What would be in your oath of citizenship to the ecosystem you are in? What practices would you commit to in service of the law of reciprocity?
"We are deluged by information regarding our destruction of the world and hear almost nothing about how to nurture it. It is no surprise then that environmentalism becomes synonymous with dire predictions and powerless feelings. Our natural inclination to do right by the world is stifled, breeding despair when it should be inspiring actions." - Robin Wall Kimmerer
How do you identify yourself in how you care for the world? How do you feel when you introduce yourself with this identity?
I have noticed that words like environmentalist and activist are often thrown around in a negative light. I remember in fact that the first time someone referenced me as an activist that I felt offended. I actually went online and looked up the word because it was not part of the vocabulary that I was raised with and this was only 2013! I felt confused because the connotation I had with this word related to an idea of being extreme when the way I was acting (really organizing) seemed like the accurate response to have in the face of what my community at the time was fighting. Now I wonder a lot about why society shames those who are active in speaking up and taking action to course correct the many systems that have gone awry. I am curious when/how others were introduced to some of these roles and what words feel comfortable when speaking about one's identity.
Image from @hiflorafaunawho made this incredible lei for Robin Wall Kimmerer who was on Maui this last week. Such an incredible offering! Writes @hiflorafauna, "The lei for Robin Wall Kimmerer. Mosses. Lichens. Mgambo. Indian Heirloom Gem Corn. And a whole lot of inspiration from her books and words."
"Reciprocity is a key to success. When the Sweetgrass is cared for and treated with respect, it will flourish, but if the relationship fails, so does the plant. What we contemplate here is more than ecological restoration; it is the restoration of relationship between plants and people. Scientists have made a dent in understanding how to put ecosystems back together, but our experiments focus on soil pH and hydrology- matter, to the exclusion of spirit. We might look to the Thanksgiving Address for guidance on Weaving the two. We are dreaming of a time when the land might give thanks for the people." - Robin Wall Kimmerer
What does it mean to you to have the 'āina (land) give thanks for the people where you live? What specific practices and/or language would the 'āina recognize?
"Sometimes I wish I could photosynthesize so that just by being, just by shimmering at the meadow's edge or floating lazily on a pond, I could be doing the work of the world while standing silent in the sun…It would be so satisfying to provide for the well being of others- like being a mother again, like being needed… As a plant I could make the campfire, hold the nest, heal the wound, fill the brimming pot. But this generosity is beyond my realm, as I am a mere heterotroph, a feeder on the carbon transmuted by others. In order to live, I must consume. That's the way the world works, the exchange of a life for a life, the endless cycling between my body and the body of the world."

- Robin Wall Kimmerer
In a modern capitalist world where value is placed on how much we consume, how does it feel to re-orient yourself into the cycle of life as a heterotroph?
"Maybe we've all been banished to lonely corners by our obsession with private property. We've accepted banishment even from ourselves when we spend our beautiful, utterly singular lives on making more money, to buy more things that feed but never satisfy. It is the Windigo way that tricks us into believing that belongings will fill our hunger, when it is belonging we crave.

On a grander scale, too, we seem to be living in an era of Windigo economics of fabricated demand and compulsive overconsumption. What Native peoples once sought to rein in, we are now asked to unleash in a systematic policy of sanctioned greed.

The fear for me is far greater than just acknowledging the Windigo within. The fear for me is that the world has been turned inside out, the dark side made to seem light. Indulgent self-interest that our people once held to be monstrous is now celebrated as success. We are asked to admire what our people viewed as unforgivable. The consumption-driven mind-set masquerades as 'quality of life' but eats us from within. It is as if we've been invited to a feast, but the table is laid with food that nourishes only emptiness, the black hole of the stomach that never fills. We have unleashed a monster." -Robin Wall Kimmerer
How have you allowed your participation in the culture of the Windigo way to allow banishment from yourself? In what ways can you shift your actions to encourage greater reciprocity and balance?
This prompt came from Sarah Reeder, one of the readers from the Spiritual Ecology Bookshelf. The passage above deeply impacted her, so much so that carries a copy of it as a personal reminder in one of her notebooks. The sentence "We are asked to admire what our people viewed as unforgivable." rings truest for me, when I think about how we are raised to view success.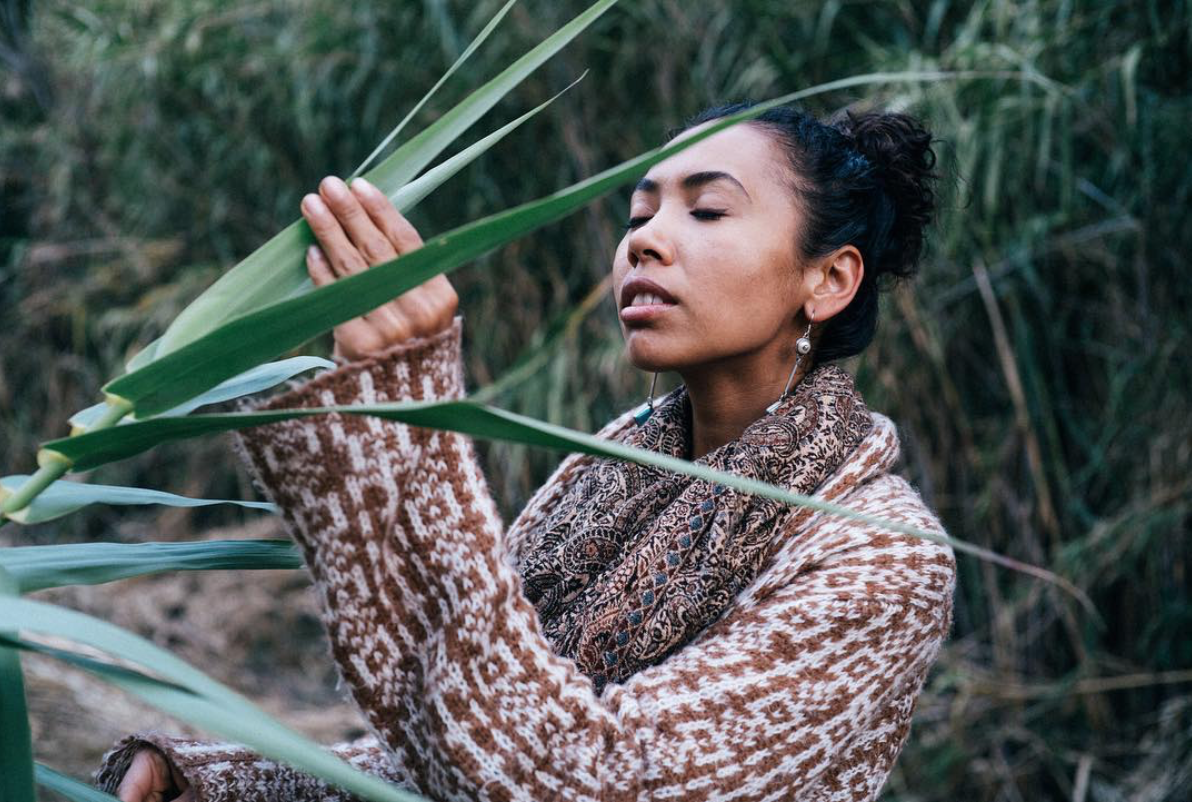 "Names are the way we humans build relationship, not only with each other but with the living world. I'm trying to imagine what it would be like going through life not knowing the names of plants and animals around you. Given who I am and what I do, I can't know what that's like, but I think it would be a little scary and disorienting - like being lost in a foreign city where you can't read the street signs. Philosophers call this state of isolation and disconnection "species loneliness" - a deep, unnamed sadness stemming from estrangement from the rest of Creation, from the loss of relationship. As our human dominance of the world has grown, we have become more isolated, more lonely when we can no longer call out to our neighbors." - Robin Wall Kimmerer
Have you ever experienced "species loneliness?" What did this feel like? Were you able to remedy this feeling? If so, how?
This passage is one of my favorites throughout this whole book. I thought to share it now because tomorrow me and my baby are heading out for 10 days on the land with Weaving Earth. A big part of why I joined Weaving Earth was because of this experience of feeling species loneliness over the last 2 1/2 yrs of living here in the Bay Area. I wasn't expecting to feel the incredible sense of loss over my place within the natural world, as at home I was fluent in the plant species that populated where I grew up and was used to spending most of my days in natural space. It has been a huge adjustment for me to live in a neighborhood and after the initial excitement wore off around living in a new place, I did in fact feel disorientated and lost simply because so many of the plants and animals were new to me. This would be what you would call a humbling experience as I felt that so much of the knowledge I had been learning my whole life suddenly did not translate or have currency in my new home. It caused me to consider for the first time from an actual place of embodied feeling how many people probably feel for various reasons. It has probably been my saddest awakening. These days I finally feel better. More landed, more adjusted, more aware of who grows where and who blooms when and how the light flickers and moves through my home as seasons grow and pass. It has and still is taking its time, feeling "at home" and "a part of" that is. The work for me has been admitting every day that I do not know this plant, that bird, or that tree. It has required me to invest in walking my neighborhood and town throughout the year. Really it has all been a good thing, an experience to grow on and a really good reason to slow way down. Learning a new language takes time and I don't believe our species was ever meant to know just one.